The french way wrote:

irishscummyman wrote:now I'm not gay but that Fab Moretti

ouuuuuuuuch FAAAAAAAAB!!!!!!!!! but i just bought is that it? and when i opened the booklet i saw that picture of Nick Valensi... OMG! why does he let his hair grow? come on!!

concerning the music, I happen to like Heart in a cage now! the video of You only live once is amazing, i love it. Fab is almost drowning cause he' s sitting. And they are so hot when they' re dirty... Fact!
Saw that bit at the beginning of the tune when Jules goes: Don't don't don't get up!
the moves he makes... makes me laugh every time!!!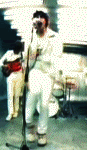 Gets me every time!!!
And I love the mix of the guitar riff on that drum part.... the mix of the two is awesome!